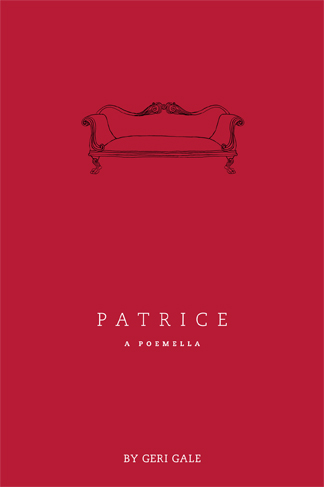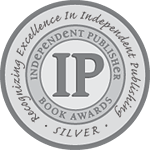 Silver IPPY Award: GLBT Fiction |
Independent Publisher Book Awards 2015
ISBN: 978-0-986-05900-1 (Trade Paper)

PATRICE: A POEMELLA IS A STORY ABOUT . . .
Every ten years, Patrice, a 500-year-old woman, travels to a new city to pose nude on a red velvet couch for a painter. It's 1939 and Patrice is tired of being immortal. She longs to release her wisdom and secrets, and escape years of captivity. She arrives in New York City and meets the suffering Louis. His Jewish family and friends were taken by train to concentration camps and Louis himself was smuggled out of Vienna in a coffin. Except for his lover Hadrian, all he has ever loved has died. His only reason for continuing to live is to see his paintings hang in the museum alongside the Old Masters. Against the backdrop of horrific war, Patrice teaches Louis to paint the inside of her heart and her soul, and inspires him to create the masterpieces he's destined for.
Patrice is about the myth of art and artist and how a woman and man during wartime pull truth and art from pain, passion, and desire.

BIRTH OF PATRICE
It took me six years to write Patrice. My artistic background began in photography where I discovered the Hungarian-born photographer André Kertész. I have always admired the joie de vivre and angles in his photograph Satiric Dancer, La danseuse satirique (1926).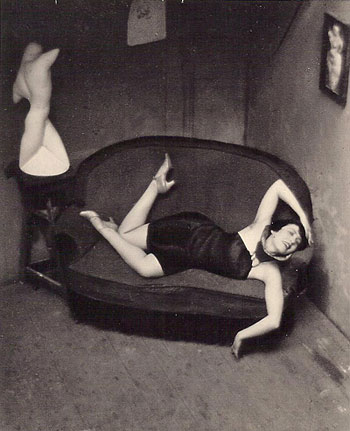 From this point I began with the theme: a woman lying on a couch. I morphed the image into a woman lying nude on a red velvet couch before a painter. I remembered images created by renowned master painters.
The paintings of women lying on couches before painters were passive. The women were beautiful but also appeared forlorn, weak, submissive, unengaged.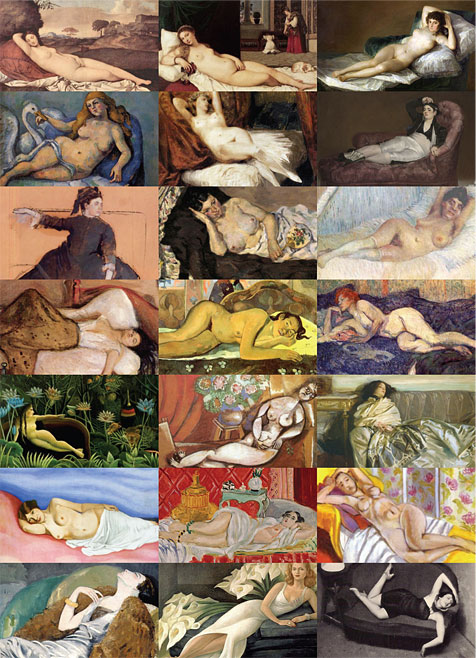 The metaphor of Patrice was born. She longed to break the pattern of the female model of the past: to transform her passive state into an active state. She became the ultimate muse of the twentieth-century painter—teaching Louis to paint the inside of her heart and her soul, musing him to create masterpieces never created before, landing him a place in the museum hanging alongside the Masters.

EXCERPT FROM PATRICE: A POEMELLA
6. Winter 1939
Even in the Cold of Winter, Patrice Traipsed through the Desolate City
to the Metropolitan to be with the Painter. The Metropolitan Was a Place
Where Rules Never Changed. There Were Few Interruptions or Visitors,
Only Records He Played of Bach and Beethoven and Mozart and Wagner,
Only Hadrian and Mrs. Ito. Patrice and Louis Withdrew Their Attention
from the External World to Entertain the Meaningful Truth That Abided
in the Ornamental Internal World.
She entered the room carrying a masculine scent. He inhaled the conquering glory
of it and watched her undress with the motions of slow deliberateness he had seen
in other men, who even when naked kept the most hidden parts to themselves.
The joints in his hands ached with the desire to capture the naïveté she wore
on her face, that sly look of night's marvels still drenched on her morning
flesh. It was an extraordinary December morning, the city shined her citadels
of strength, kisses of glass spawned a new beginning of biting cold
that would last throughout the day.
She lay on the red velvet couch. Her neck elongated, her hands crossed
at her chest and she whispered a line of words she kept to herself as she had done
through November, and he knew would continue until the new year for they were
at war—in conquest of each other's thoughts like the queen's explorers sent
to the new world to wrest the earth's undiscovered riches and spices and spoils.
Her smell lingered in his throat as his paintbrush loitered in the northernmost
corner of the canvas. Continents of black gave him a philosophical calm,
a sense of lightheartedness he spread with ivory white forming elephant-grey
curls of infiniteness, for their first war was near. He was as certain of it
as her manliness scrawled across her cheeks, the sun's rays sketching streaks
of sword-silver blades he saw in December's deceptive mirth,
in the promise of snow they both desired.
Her lips parted, and he witnessed his mistakes in the entangled branches
of her hair. The wheel of curls spun away from her bones, and he studied
the negative space so anxious for shape.
The foundation of her secret lay in the curvature, but her smell reeked
of made-up lines, a madness of reasoning, of making up and imagining calm
in the chaos of battle.
She studied him with a serene introspection, as if looking at him
she looked at herself in a mirror.
He was overcome by desire to know where she had traveled during
the darkest hours of the night, like an insect-lover who claimed,
classified, and named his moth.
Was he painting her alive, her arms white fluttering wings,
or was he doomed to December's cruel hand of cold, nailing her with pins
as he mounted her on a wall?
She watched him smell her, watched how he added more white,
watched his face unveil a look that he wished to fuck her.
He placed his paintbrush down and he walked to the couch and lifted
her chin in his hands. "Why must you torment me in the winter?" he asked
in the voice of a young schoolboy.
She gasped for air and screamed, "Your hands are ice."
She burst out in laughter, and her once masculine smell turned sweet
and sugary as the breath between them melded into one cloud of December cold.
He heaved his blood and wrapped his joints into the anatomy of her chin.
His veins let loose, sprawled open, and the pout of her lips recessed
into a crescent-moon smile and she bit him.
She bit his most favorite painting finger, and he dropped to his knees.
His head fell into the cushion of her belly, and for the first time
he knew that his end was near. All along she had teased him
with the scent of a man.

PRAISE & AWARDS
An intense, sumptuous prose-poetry exploration of inspiration, sacrifice and art.
With uninhibited brush strokes, Gale's impassioned debut offers an extended, self-reflexive allegory of artistic abnegation and creation. The author marries the characterization of prose to the sensuality and linguistic precision of poetry in a form she dubs a "poemella."
A baroque, sensual tour de force that elevates art above all else.

—Kirkus Reviews
Geri Gale's Patrice: a poemella is obsessive, luscious, delicious. It invites you into the river of language and carries you to the heart of what it means to make art, to be an artist, to be an artist's muse. Patrice is timeless and it is mesmerizing.

—Priscilla Long
poet, writer of essays, fiction, history & science
author of The Writer's Portable Mentor: A Guide to Art, Craft, and the Writing Life; Crossing Over; Minding the Muse; Fire and Stone
www.priscillalong.com
In Patrice you get to watch a writer fuse the intense poetic line with the extended narrative line to create a new form. Geri Gale calls this a poemella—by this she intends to fuse a poem with its compressed imagery to a novella with its complicated story line. In effect, this is a modern epic. This poemella is written in a new language that jams together words which, until Gale fits them into her images, have not been fused before.
It's not every day that we stand witness to the creation of a new form—in Patrice you get to see evolution and creation at work.
—Jack Remick, poet, novelist & screenwriter
author of The Book of Changes, The Deification, Gabriela and the Widow, Blood, and Satori
www.jackremick.com
From her first words, the poetics of this transformative work take you on a wonderful creative journey. Unlike any other offerings of literary imagination I've digested Patrice, is an intimate, sensuous and historical encounter with the creative process of souls merging through art, with all its simple joys woven in with the intimate struggle entailed. This is achieved by delving beyond the surfaces of appearances and into the depths of seeking the mystery and meaning of existence through patient dialogue between a muse and painter.
—Gordon Wood, painter
Gordon H. Wood Art & Design
www.gordonwoodart.com
Geri Gale's poemella—a novella executed in exquisitely turned poetic lines—is breathtaking in its emotion, power, and artistry. Although seemingly implausible, the existence of this 500-year-old woman, Patrice, is never in doubt. Her sensuality opens the painter's body and soul. Gale's understanding of the painter's studio, brushstrokes, color, and technique brings to life the intimacy of the painter/model relationship, and the reader is drawn into a world that is immediate and real.
—M. Anne Sweet, poet & artist
author of Nailed to the Sky and several graphic poems
www.studiosixeight.com
In this sumptuous book, Patrice: a poemella, Geri Gale offers a rich, rewarding literary feast of imaginative, luscious language and story: mythologies of art, longing, place and being, set within the historical context of a terrible war, and a great city. A book to be savored slowly, over a glass of red wine, on a red velvet divan. Lovely. Lyrical. A treasure.
—Deborah Pursifull, poet
There's a lavish richness to Gale's writing that flows through her enchanting unmasking of what it is to be an artist's muse. In her expertly woven tale of wartime, an indelible story of passion flourishes in swathes of greed, purity, and paint. A book to be savored, word by delicious word.
—TJ Hatfield, copywriter
I take her work out like I would a snifter of Grand Marnier and sip it because it's so rich, aromatic, and the ritual of the amount of drink and the glass that holds it matters.
—Lori DeMarre, photographer & visual artist


Patrice: a poemella was awarded a Silver IPPY: GLBT Fiction (Independent Publisher Book Awards).
Patrice: a poemella was awarded honorable mention in the 2009 Leapfrog Press Fiction Contest.